Extension Services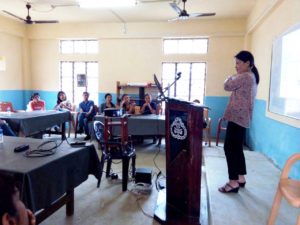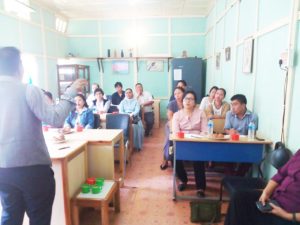 The community is benefitted from the institution through:
Outreach programs; Community work incorporating Environment Protection, HIV & AIDS, Consumer Rights, educating school dropouts.
We also conduct activities in the community under the banner of RRC and Eco club.
NGO's: Faculty members act as resource persons in programs organized by women groups, student bodies, self-help groups and various programs organized by the church.
GO's:
a) Interview Board members as subject experts for RMSA, SSA, and other selection Boards constituted by Government of Nagaland.
b) Members of NBSE Curriculum Development Board.
c) Members of State level Science Exhibitions and Seminars
d) Curriculum development board of the University.
e) BLO to Election Department of the state.
f) Speller and judge in state level 'Spelling bee' competition
g) Member BOPS under Nagaland University.
h) IGNOU
i) Conduct of examinations for NEILIT (twice every year).
j) External examination board members in the University Practical exams.
k) Question setter and practical examiner of computer operator for appointment to government
l) Members of Examination Board Nagaland University.
The institute develops social and citizenship values skills through –
Project and practicum which are conducted in the community.
Collaborative and cooperative teaching-learning.
Exposing the students to different rural and urban set up during observation and Practice teaching programs
Participation in Blood Donation drives.
Organizing and Observing important days and occasions like international Women's Day, World Disabled Day, World Humanitarian Day, Consumer Right Day, Earth Day and a number of Cultural programs.
Conduct of awareness programme on role of a citizen on election related activities.
Conduct of Clean election campaign.
Financial management awareness programme by Securities and Exchange Board of India (SEBI).
Project on Traditional Knowledge.
Effective use of internet service in daily life activities.
Undertaking numerous projects in the community under different curricular areas.
Sport meet conducted on a yearly basis.
Formation of different clubs and constitution of student body.
Conduct of educational tour.
Visits to old age home, orphanage, inclusive schools etc.
Conduct of inter-college sports meet.
Collaborations:
Nagaland University (NU)
Harkamaya College of Education, Gangtok.
Delhi University (Education Deptt.)
Institute of Leadership Development and Communication(ILDC).
Department of Tribal affaire, Nagaland.
Department of Science & Technology.
SCERT-Kohima.
IGNOU.
Nagaland Board of Secondary Education, Kohima.