About Us
From The Principal's Desk…….
State College of Teacher Education (Formerly Nagaland College of Teacher Education) Kohima was established in 1975 by the State Government of Nagaland to impart quality and value based teacher education. It was affiliated to North Eastern Hill University (NEHU), Shillong, Meghalaya. In the year 1995, affiliation was transferred to Nagaland University , and included under 2(f) and 12 (B) of UGC Act. in the year 1988 and thereafter recognised by NCTE and upgraded to CTE in March 1996. The institution aims at empowering the student teachers with the professional and social competencies to compete with the challenging world. The synergetic efforts of management, teaching staff, non-teaching staff and students, who have been working as a team with an excellent cooperation and zeal, proved as a great boon for this institution to grow from stature to strength in the pursuit of knowledge and excellence.
Dr. Elizabeth Walling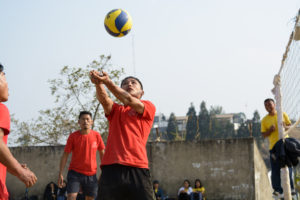 § Vision of the Institution:
Impacting Social Uplift through Responsive, Relevant and Reflective Teacher Preparation.
§ Mission of the Institution:
Prepare Reflective, Humane Professionals as Catalysts of Change, Pro-actively engaged in Redefining Process and Practice of Education.
§ Objectives of the Institution:
To facilitate student teachers to:
Develop concern and love for learners, learning and teaching with commitment to serve society and work for its reconstruction;
Understand and appreciate the multi-dimensional aspects of teaching-learning and effectively design learning experiences to address diversities;
View learners as participants in the creation of knowledge and actively engage them in meaningful learning;
View learning as a continuous and evolving process of meaning-making and knowledge generation as a process of Reflective learning;
Understand pedagogy as an integration of knowledge about learner, content and context;
Develop competencies to effectively use evaluation 'for learning' rather than 'of learning', aimed at continuous and comprehensive evaluation of learners and the learning process;
Nurture values of Justice, Equality, Peace and Social Responsibility, and commitment to the cause of a Just and Peaceful society;
Develop capacities for Critical Thinking and Reflection and help develop the same in learners;
Identify and develop their potentials and strengths; realise their limitations and adopt measures to address them;
Effectively prepare themselves for multiple roles both within and outside the classroom;
Develop language, communication and ICT skills as means of facilitating learning as well as life-long learning;
Develop interest and skills in Research and view it as a an indispensible tool for a professional practitioner;
Nurture artistic and creative sensibilities, with abilities to develop the same among learners.